PV Exploration Trip ***Bring a water bottle and shoes for walking*** Thursday June 8th Mankato Field Trip Museum- 9:05- 5 grade and up 9:40- K-2 2nd group 10:10- K-2 1st group 10:40-3rd and 4th Jail- 9:05-3rd and 4th 9:40-5 and up 10:10-K-2 2nd group 10:40-K-2 1st group Machinery- 9:05-K-2 1st group 9:40- 3rd and 4th 10:10- 5th and up 10:40-K-2 2nd group Park/Snack 9:05-K-2 2nd group 9:40-K-2 1st group 10:10-3rd and 4th 10:40-5th and up All meet back at the park to load up.

Reminder: Please bring your pencil boxes, crayons, scissors, and glue with you for PV Summer Exploration today. Thank you.

Just a reminder that the bus will leave Scandia city park at 8:15am for summer school and drop off about 11:45am at the park as well. Please bring a water bottle. We'll have porta potties and the church for bathrooms. We'll have water in coolers as well.

Department of Commerce Office of Broadband Development 1000 S.W. Jackson St., Suite 100 Topeka, KS 66612-1354 Phone: (785) 296-5298 Fax: (785) 296-3490 TTY: 711 KansasCommerce.gov David C. Toland, Secretary Laura Kelly, Governor Faculty, Staff, Student and Parents: Kansas is creating a plan to expand broadband to every Kansan and asking everyone to visit
https://broadbandks.com
to take a quick online speed test and survey. The test is simple and will only take a couple of minutes to complete. If you do not have internet service at your home or business, you can call or text 1 (913) 349-9555 and share your address where there is no service. To take the speed test, just make sure you are on Wi-Fi (not just on your cell phone network) from your home or business. Look for this symbol this ( ) instead of this one ( ) to be sure you are not on your cell phone network. • The speed test will capture your internet speed, general location, and IP address, but will not record any other personal information. • You will also see a SURVEY button. The survey is optional, but we encourage you to take it. It will provide us with important information about how you connect, what training might be helpful, and how affordable your internet service is. This may not be the first time you have been asked to do this, but it may well be the most important. It can help us prioritize the historic federal funding coming to Kansas! If possible, best results are obtained if you take 5-7 tests at different times of day with focus in the late afternoon or early evening since this is when you may experience the slowest service. We know that this is a busy time of the year with school ending and summer beginning. We deeply appreciate your help in getting these tests done to share where the opportunities are to better connect Kansas. Questions or want to learn more visit
https://broadbandks.com
. Kansas Office of Broadband Development (785) 480-8555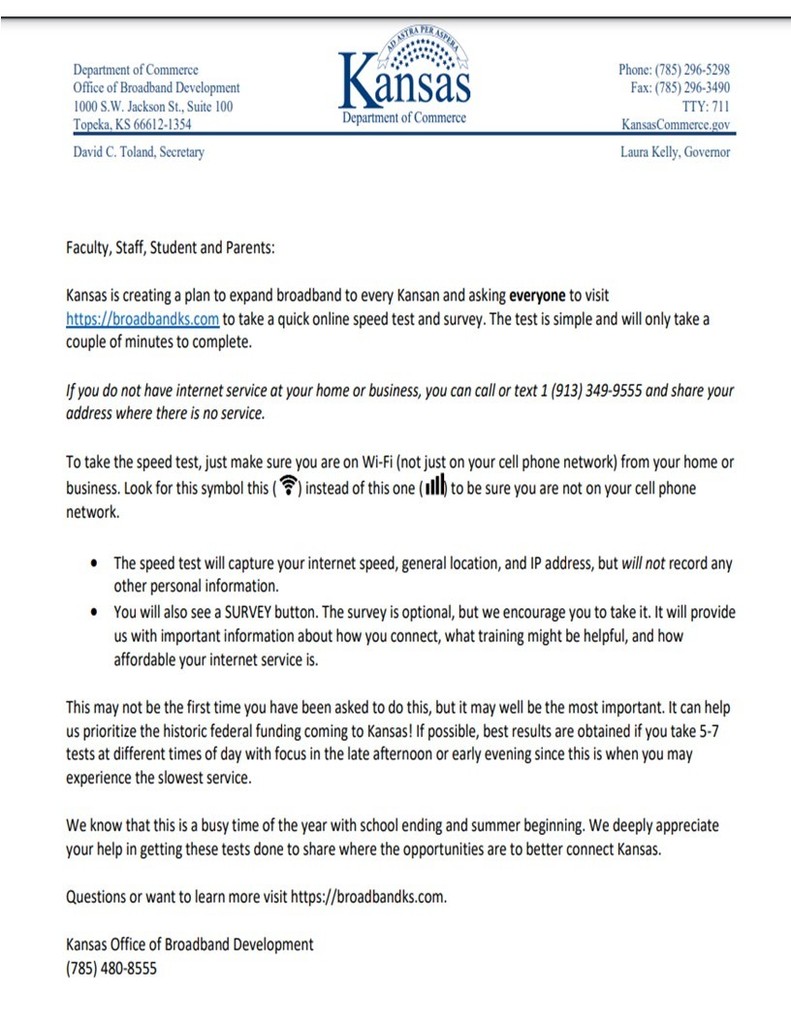 PV Elementary Schedule for this week: 3rd-4th grade Tuesday, 5/16, 8:15am-3:15pm Salina, KS 6th Grade Picnic Tuesday 5/16, 10:30am-2:30pm Scandia, KS PK Roundup 5/16, 6pm PK4 Promotion 5/16, 7pm K-1st-2nd grade field trip Wednesday 5/17, 7:45am-3:00pm Aurora, NE K-6th Grade Play Day May 19th, 9:00am-11:30am

Reminder: 6th-8th Awards Night, 5/15/2023 at 6pm at PVHS in Scandia. Call PVHS at 785-335-2294 for any questions.

Due to the weather, JH PTL track meet has been moved to Friday at 10:00 am. The High School Track meet has been moved to Friday at 3:00 with pole vault at 2:30 p.m

If you ordered a yearbook and have not yet paid for it, please get your payment in as soon as possible! If your book is not paid for by Wednesday, May 17th we will not be able to order it. If you are unsure if you have paid yet or not, you can email
stephanie.gieber@pikevalley.com

Pike Valley Schools will be having a summer camp for grades K-8 (the grade your child will be next school year). It will be 8:30am-11:30am the weeks of May 30th-June 2nd (Tues-Fri), June 5th-8th (Mon-Thurs), and June 12th-15th (Mon-Thurs). The focus will be writing, reading, math, technology, science, engineering, and art. Summer Exploration 2023 will be in Courtland. We will bus kids from the park in Scandia to and from Courtland each day. If you are interested please fill out the following survey. Thank you,
https://forms.gle/ggefhUmmo4FUmNHF6

Say "hello" to parent-teacher chat in the Pike Valley USD 426 app! The same district app now offers class streams, class announcements, and parent-teacher chat. Download for Android
https://bit.ly/3qNBqG5
Download for iPhone
https://apple.co/3o8Ug9h

PV Elementary Spring Program is May 2nd starting at 6:30pm, details to follow. This is being sent out as it was printed odd on the paper calendar. Thank you,

Pike Valley Elementary Kindergarten Round-Up April 25th, 2023 at 6:00pm at the PV Elementary.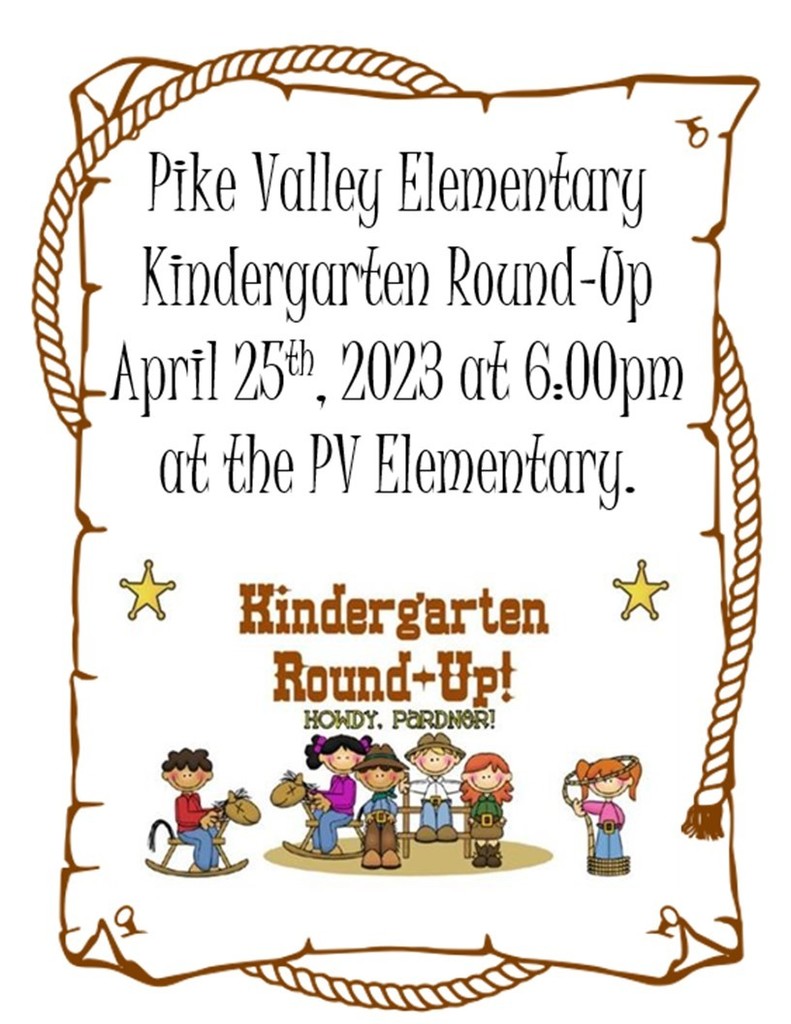 USD 426 Pike Valley is searching for a candidate to take over our accounts payable/food service position located at our Central Office in Scandia. This position will be approximately 20-30 hours per week for the full 12 months. Health Insurance up to $500 per month on the district health plan is a benefit along with sick and discretionary days via negotiations. Computer competency is important for this position. Applications will be accepted until noon on April 28th with an expected start date around the middle of May. Please call the district office at 785-335-2206 with any questions.

Hello Pike Valley Families-This is for any students that load the bus in the morning at the bank bus stop in Scandia. Starting on March 20th we are going to change our load zone to the east side of the bank on Washington Street and the bus will be heading North, so we are asking to have all parents park on the east side of Washington Street or the South side of Fourth or Main Street just north of the park. If you have any questions, please contact Randy 785-527-3600. Thank you.

Dear families, This week is National FFA week. There will be lots of fun FFA activities scheduled this week with a FFA Barn dance to end the week. JH will also have a dance on Tuesday. Monday: High School Forensics meet at Lincoln @ 3:00 pm, Play practice at 6:00 pm. Tuesday: JH Dance @ JH/HS Cafeteria at 6:00 pm, Sophomore/Junior NCK Tech Day, Cloud County Medical Cadaver Observation. Wednesday: Spring Pictures, KSU College Rep. at 1:00 pm. Thursday: Substate Basketball vs Axtell @ Courtland at 7:00 pm. Friday: Substate Basketball vs Wetmore @ Courtland at 7:00 pm Saturday: FFA CDE @ Ellsworth, FFA Barn Dance

Principal E-letter: Dear PV families, Last week the HS scholars bowl team competed well at the regional scholars bowl. The HS basketball teams came home with victories over Lincoln. HS and JH FFA had a great day doing CDEs and LDEs. KAY members traveled to Kensington and had fun at the Unit Conference learning about serving with a purpose. The junior high scholars bowl team season has picked up as they traveled last week and will travel again this week. HS play practice has also picked up as they prepare for their Spring play. Please continue to work with your child keeping up grades as we will run eligibility every Monday morning. Schedule of events this week: Monday: NPL Band @ Mankato at 1:00 and NPL band concert at 6:00 pm.. 7th and 8th grade scholars bowl @ Downs at 3:00 pm. Tuesday: HS basketball @ Osborne, time TBD. Wednesday: FFA LDE @ Clay Center all day. Friday: HS basketball @ Courtland vs Natoma, time TBD.

If your child would like to go the PVJH basketball game on Thursday and is not on the boys' team, please send a parent permission note for them to go at 1:45pm Thursday afternoon on the bus. Thank you, GO PANTHERS!!!

Good evening Pike Valley Families, We will run a mock eligibility this week to see where students are at and real eligibility will begin next week. Please make sure your child is working hard to keep grades up. JH PTL basketball begins tomorrow. We also have HS NPL scholars bowl this week. High School basketball will be home on Tuesday and Friday this week. There will be FFA PALS introduction before the varsity game on Tuesday. Monday-PTL @ Rock Hills with JH Girls vs St. John's/Tipton at 5 pm, JH Boys vs Rock Hills at 6 pm. Tuesday- HS basketball vs Thunder Ridge @ Courtland with 2 quarters JV boys at 5:15 pm. Wednesday- NPL Scholars bowl at St. Johns Beloit. Thursday-Dental Screenings, JH PTL Basketball @ Rock Hills. Friday-HS basketball vs Chase @ Courtland with NO JV. Start time is yet to be determined

: Good morning, Due to the poor weather conditions, there will be no school or after school activities at Pike Valley Schools today. Stay safe and stay warm.

Good morning, Due to the slick road conditions and continuing inclement weather, there will be no school at Pike Valley Schools today. Stay safe and stay warm.