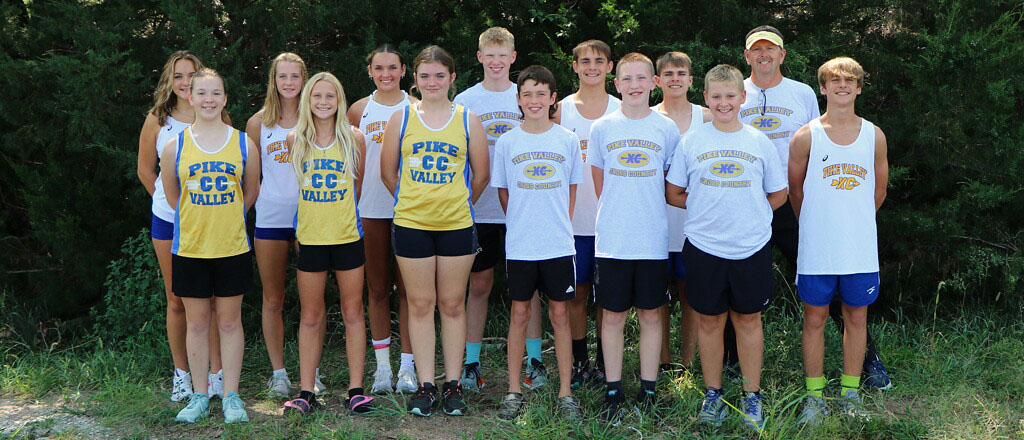 Pike Valley Jr High Cross Country
Meet Results - Riley Co. Invitational
October 7, 2023 - Leonardville Golf Course - Leonardville, KS
Athletes: 1 HS Girl - 5K
Girls: 3 Runners - 2 miles
Boys: 4 Runners - 2 miles
*10 Medalists in each 7th & 8th grade division.
#Season Best Time
| | | |
| --- | --- | --- |
| Athlete | Overall Place | Course Time |
| Breanna Reeves | 49/81 HS | 25:57.93 |
| Tianna Reeves*# | 2/33 | 14:17.25 |
| Lanee Bray# | 16/33 | 16:37.03 |
| Paige Garst# | 20/33 | 16:57.81 |
| | | |
| --- | --- | --- |
| Athlete | Overall Place | Course Time |
| Peter Newman | 19/28 | 13:51.02 |
| Max Douglas*# | 6/54 | 12:54.49 |
| Caleb Woodard | 24/54 | 14:03.98 |
| Reed Newman | 51/54 | 18:31.04 |
It was nice and cool on Saturday, nearly ideal for racing. We had two medalists and six season-best times today, all in the JH high! The JH portion of the season is now complete.
There were only 30 medals in the HS races this year. Our HS training continues as we head into the Championship portion of the season. Our training should start to show by next Thursday, as the load will lighten considerably as the season winds down.
We head to the Downs Golf Course for the Northern Plains League (NPL) / Lakeside Invitational XC Meet on Thursday, October 13. The Girls Race is at 4:00 p.m., with Boys Race to follow!
Yours in running,
Coach Cox
2023-2024 Meet Results Archive
Photo Credit: Christy Newman and Amy Rickard